Latest News
Hello all
Spring again I think.
It is with sad resignation that I have to report extensive damage to our local reserves, especially Knockwood Camping Reserve; some particularly mindless drivers have extensively damage the ground surface in the reserve causing Mansfield Forestry Officers to close it indefinably. This I one of the best examples of grassed large and open mountain camping reserves in the Northeast which is enjoyed extensively during the better part of the year by all. The men and woman of DELWP who look after these reserves so that you can enjoy it are broken hearted at the treatment of them by these fools. There is no excuse for this mindless damage and we will do our best to catch up with these people and deal with them.
A number of drivers have been penalised for driving their vehicles off the road in the past few months at Grannie's Flat Reserve in Jamieson and the Jamieson Licola Road. As well drivers along the Strategic Fire break on the Warburton Woods Point Road.
A lot of you will know of the old Thompson Dam Village situated at the Oaks west of St Clair, this is also a historic reserve that has been damaged by thoughtless drivers, having a bit of "fun" in the snow I assume.  Someone went to the trouble of toppling over the stone memorial cairn located there. This memorial is dedicated to the men and woman who built the Thompson dam and lived in that village for several years in very harsh conditions. They also tried to remove the memorial plaque, thankfully failing in their endeavour.
Please have a look at the DELWP Facebook page to survey the damage that has occurred and I ask that any person may have some knowledge of or may have seen these Criminal Acts please contact myself, Mansfield or Marysville Offices for DELWP and pass on this information to us, I assure you that the appropriate actions will be taken.
Many eyes catch many crooks.
Be safe.
Ken
It is with great sadness I advise the passing of long-time member of the VAFWDC, Range Rover Club and formerly Land Rover Clubs.  Neville was a past President of the VAFWDC and the Range Rover Club where he was a life member.
I introduced Neville to four-wheel driving and the world of Land Rovers in 1973 when he purchased a Series 2A Land Rover station wagon.   After several years and many hard miles Neville looked for a bit more comfort and style and graduated to a 2 door Range Rover.  Following this Neville joined the Range Rover Club Club in 1980 and was immediately impressed with the range of trips being run by club members and the care and attention to detail the trip leaders exhibited.  With his wife Jenny and children Stephen and Kirsty, Neville took part in many memorable trips to the Victorian High Country and outback Australia.  Trips led by Neville became legendary for the tracks he chose, the well planned campsites, and frequently the lateness of arrival at the campsite or getting back home.  Neville's trips were always full as members quickly learnt that they would see some amazing country and driving challenges. 
As the pressure to close tracks and exclude 4WD's from much of the High Country Neville realised that unless some strong action was taken there would be little opportunity for our recreation.  The Association of 4WD Clubs was in its infancy and had yet to gain influence with land managers or the state government. Neville was tasked with chairing the VAFWDC general meetings and AGM in 1986 and in 1987 Neville was elected as VAFWDC President, serving in this role for 3 years.
Neville maintained a strong stance on the retention of 4wd opportunities and served on the Alpine Advisory Committee, and the Public Land Council where at its meetings Neville forged bonds with like-minded groups such as the Mountain Cattlemen's Association and the Sporting Shooters who were also threated with exclusion from the newly formed Alpine National Park. Neville also enjoyed a strong and beneficial relationship with key land management staff including Gus Geary, Frank Noble and Rocky Barca.   Aided by his large stature and eloquent manner of speech, Neville was a tireless campaigner for the track access we now enjoy.  Throughout his term as VAFWDC President he continued his firm stand for continuing track access with politicians and senior land management agency staff, culminating in the agreement for limited club access to management vehicle only tracks.
Neville continued as an active club member for many years, become a driver training instructor in 1991 after completing the VAFWDC instructor training program and continued to run many popular club trips. 
Sadly Neville was suffered the terrible disease Muscular Dystrophy, something he concealed and fought bravely against for many years. Over time its impact led to an early retirement and limitations on his four-wheel driving.  Consigned to the passenger seat he was still able to enjoy his travels for a few years but eventually he became unable to cope with the bouncing and jolting and sadly no longer able to continue his much loved 4WD and camping pursuits.
The 4WD fraternity has lost long serving member, a friend to many, and a fearless advocate for our recreation.   Neville is survived by his wife Jenny, son Stephen and family and daughter Kirsty and family and our sympathy goes to them for the loss of a husband, father, father in law and grandfather.
Ken O'Connor
A Funeral Service to Celebrate the Life of Neville Lancelot Lester will be held at Heritage Pioneers Chapel, 1416 Healesville - Koo Wee Rup Road, Woori Yallock (near Selby Rd) on FRIDAY, (Sept. 22, 2017) at 11.00am. Additional parking will be available at the Woori Yallock Football Ground. A Private Family Burial. In lieu of flowers, donations to Muscular Dystrophy Australia would be appreciated. Envelopes will be available at the Service.
Forest Fire Management Victoria and the Country Fire Authority are working together to conduct planned burning throughout spring to reduce bushfire risk to Victorians before summer.

Ahead of what is forecast to be an above average fire season, Forest Fire Management Victoria Chief Fire Officer Stephanie Rotarangi said: ""Agencies are working together to ensure Victorians are prepared for whatever the season may bring.

"Planned burning activity is underway in regions where conditions have been suitable, so community members may be seeing or smelling smoke.

"This spring, efforts will focus on reducing risk where we can, with the aim of reducing the potential risk to communities.

"All indications are that it will be a longer and hotter summer than average. We need to act now to protect Victorian communities.

"Working with CFA is a vital part of our planned burning program to make sure that we are using local knowledge to manage bushfire risk together to deliver maximum benefit to the community."

CFA Chief Officer Steve Warrington said: "The partnership between CFA and FFMVic is all about reducing the bushfire risk faced by our communities and environment – regardless of the location or land tenure.

"This increased cooperation to work more closely is part of our Safer Together approach. This helps us measure how effective our fuel management activities are, not just how much we have burned," said Mr Warrington.

"It is essential that our crews conduct this important work now so we are prepared for a potential early start to the bushfire season."

Planned burning, and other fuel management such as clearing, mowing and slashing, are part of a program to reduce bushfire risk for communities and the environment.
"Local communities provide valuable input into decision making about bushfire management all year round, working in partnership with fire and environment experts," said Dr Rotarangi.

"We'd like to thank the community for their patience and understanding while we complete this vital work."
For the latest information about planned burns go to www.ffm.vic.gov.au/plannedburn download the VicEmergency app or call the VicEmergency hotline on 1800 226 226
The Department of Environment, Land, Water and Planning will be conducting low level aerial kangaroo surveys across Victoria between 11th September and 30th September 2017.

Covering the whole of Victoria, excluding heavily forested areas of East Gippsland, the survey will provide important information about the estimated abundance and status of Victoria's kangaroo populations.

The results of the survey will provide a better understanding of the population distribution of Victoria's three kangaroo species, the Eastern Grey Kangaroo, Western Grey Kangaroo and Red Kangaroo.

Communities may notice a helicopter flying at approximately 200ft above ground level, at a speed of 50 knots, conducting the aerial survey using distance sampling across known habitat.

Given the large geographic area to be covered, an aerial survey is the only feasible method of estimating population sizes for kangaroo species in Victoria.
To further determine the ratio of Eastern Grey to Western Grey Kangaroos, a ground survey from a vehicle will be conducted in the parts of the state where their distributions overlap.

This is the first state-wide kangaroo population survey for Victoria and will assist DELWP ensure kangaroo management activities in Victoria are sustainable.
The design of the survey has been developed by DELWP's Arthur Rylah Institute for Environmental Research (ARI).

For further information, please contact DELWP via the Customer Service Centre on 131 186 or email This email address is being protected from spambots. You need JavaScript enabled to view it..
The Mountain Burr-daisy (Calotis pubescens) was thought to be extinct in Victoria until 2009, when Bairnsdale and District Field Naturalists Club member James Turner came across the tiny plant at Sugarmatt Plains near Cobungra, west of Omeo. This was the first time the plant had been seen since 1854 when the botanist Ferdinand von Mueller collected it while on an early expedition.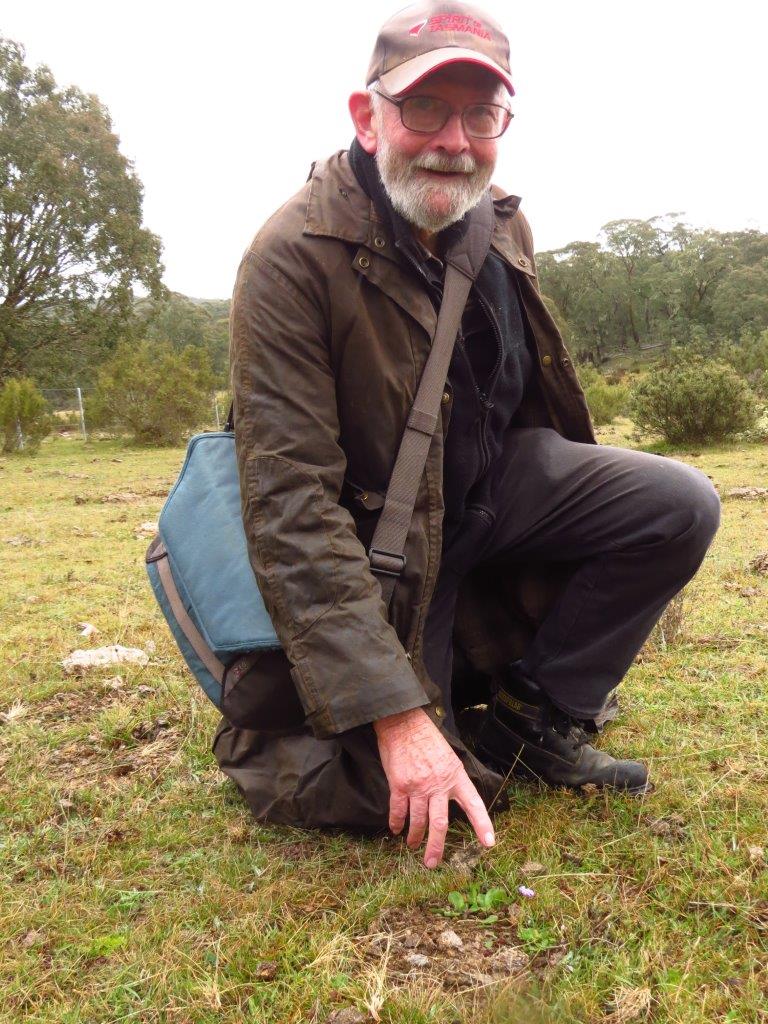 Department of Environment, Land, Water and Planning (DELWP) Senior Biodiversity Officer, Marc Perri said: "James is an enthusiastic self-taught botanist who has discovered many new species or first-ever records of
species in Victoria over the last six decades of his field work across Gippsland."

"This species is one that he had been looking for and it was a complete surprise when he finally found it. His discovery led to the plant being listed as Endangered under the Flora and Fauna Guarantee Act in 2013," Mr
Perri said.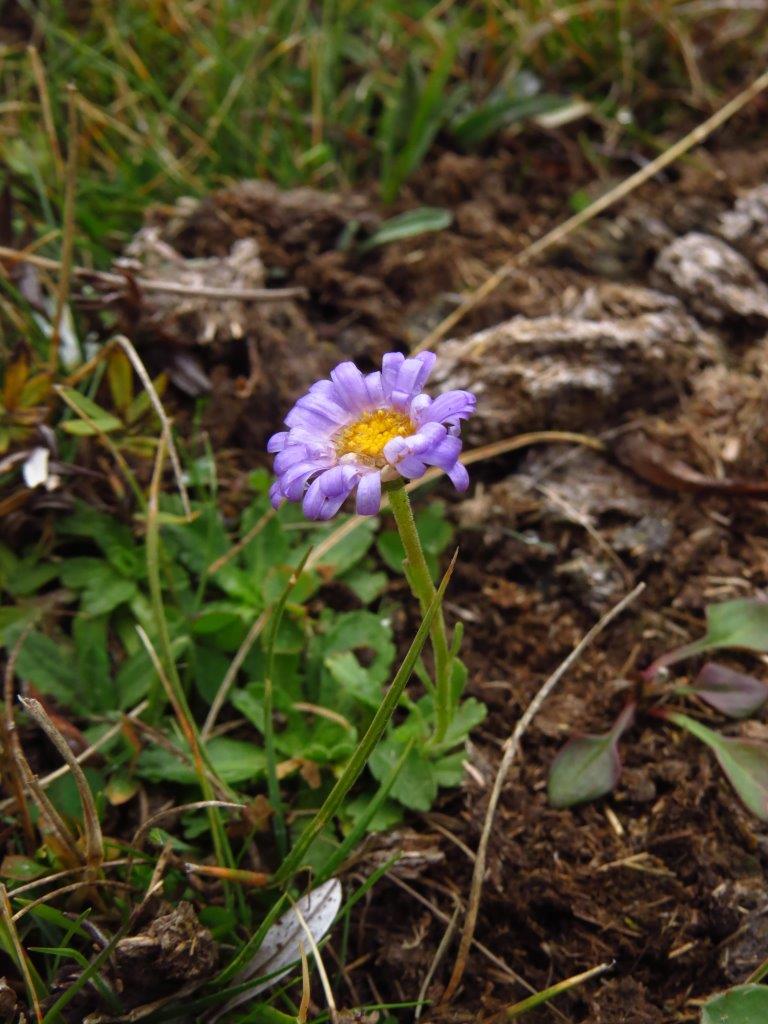 "With such a small and unique population came a responsibility to preserve the daisy and DELWP Biodiversity Officer Kerry Seaton and Forest and Fire Officer Mal Smith have been working closely with the Bairnsdale and District Field Naturalists Club for four years to protect the site."

"Due to its location, it's been exposed to continual vehicle and feral animal damage, but we didn't want to close the whole site down as it's close to a popular camp site, used by many who respect the natural and cultural values of the area."

"We looked at the best ways to manage the threats at the site and were successful in obtaining Biodiversity On-ground Actions funds in April this year from the State Government to build a horse and cattle exclusion
fence and erect a seasonal gate on the only access track."

"We have also engaged a former botanist to establish a survey method and sites so we can monitor the site into the future. A base line survey will be conducted late in the year when the daisy has appeared."
"We're all hoping that these measures will go a long way to protecting and promoting this tiny flower that is unique to our high country.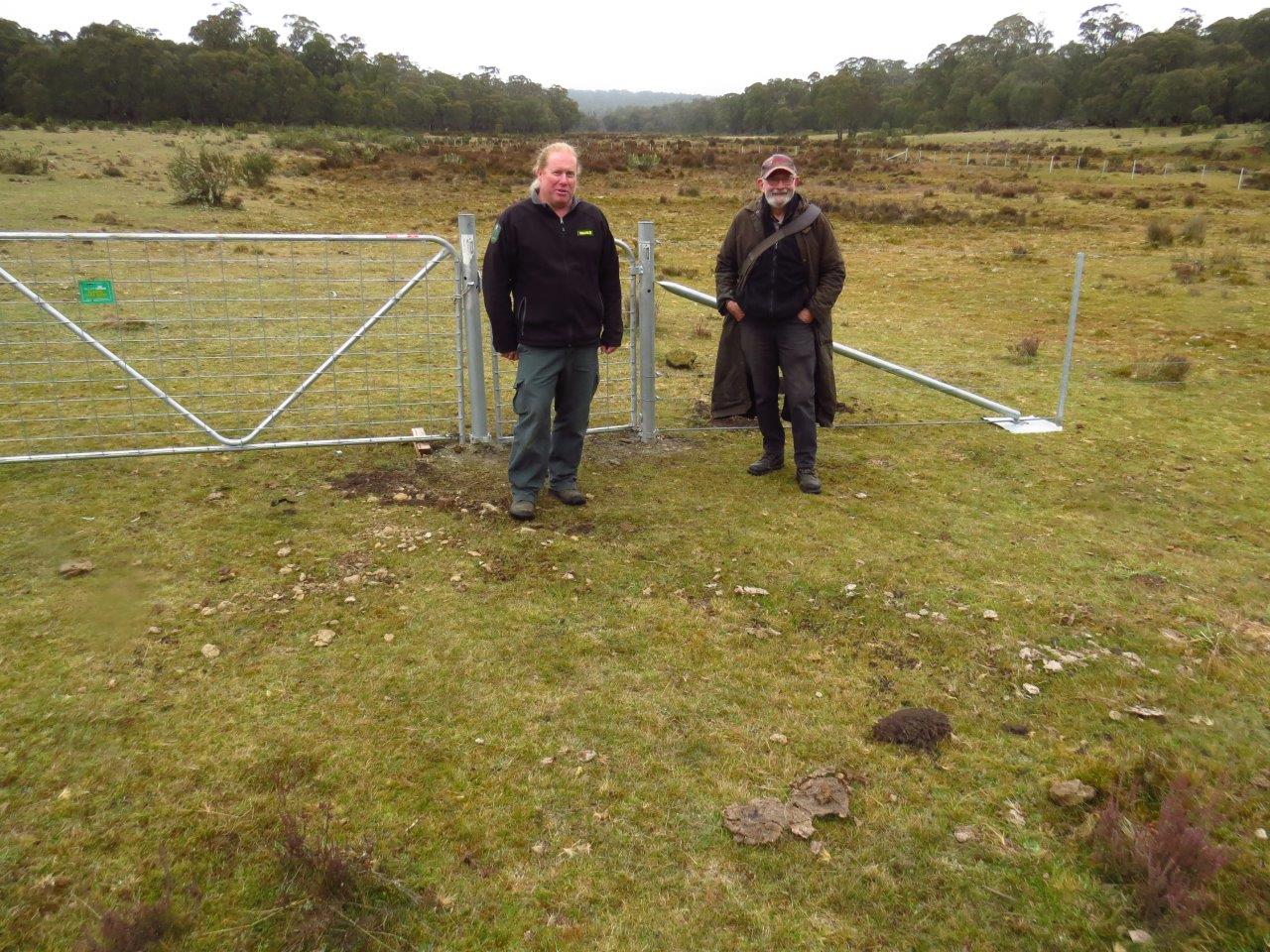 LODDON MALLEE REGION – MURRAY GOLDFIELDS DISTRICT

Start Date: Thursday 31 AUGUST 2017

End Date:  Thursday 31 AUGUST 2017
Forest Fire Management Victoria and CFA advise that the following planned burning will be carried out Thursday, weather conditions permitting:

COHUNA – HEAP: Windrow heaps 0.001 hectares, 1.5 kilometres north east of Cohuna.

This burn should be completed between 10:00 and 20:00 hours Thursday 31 August 2017

You may be affected by smoke from these planned burns.
Smoke may be visible from nearby localities and communities in:
Cohuna
What to do about:
SMOKE
If you are experiencing any symptoms that may be due to smoke exposure, the Department of Health and Human Services advises that you should seek medical advice or call Nurse on Call on 1300 606 024
Close windows and doors to prevent smoke from entering
ROADS
Road travel may be hazardous due to low visibility associated with smoke
Signs may be in place to slow traffic. Obey all traffic signs and instructions from fire agency crews near the burn
For travel times and road works check http://traffic.vicroads.vic.gov.au

ACCESS TO FOREST/PARK RECREATION SITES
Be aware of planned burns happening in your local area and stay clear of areas where burns are taking place or areas that have recently been burnt
Access to walking tracks, car parks, camping grounds and picnic sites in areas close to or in burn areas may be restricted
For parks closures, please refer to Parks Victoria on 13 1963 or visit http://parkweb.vic.gov.au/
Stay informed about Planned Burning
Visit our website at www.ffm.vic.gov.au/plannedburn
Call the VicEmergency Hotline on freecall 1800 226 226
Visit VicEmergency website www.emergency.vic.gov.au
Download the Vic Emergency app
Sign up for automated notifications about planned burns near you via www.delwp.vic.gov.au/pbns

Callers who are deaf, hard of hearing, or have a speech/communication impairment can contact via the National Relay Service on 1800 555 677.
Authorised by:  Forest Fire Management Victoria Regional Burns Coordinator, Ben Matthews . 

29/08/2017
The Spring 2017 firewood collection season on public land opens across Victoria on Friday 1 September 2017.

Acting Regional Forest Management and Roading Coordinator, Dave Pasztaleniec, said "People are reminded that once the firewood collection season is underway it's important that people only collect firewood from designated firewood collection areas and stay within collection limits."

"This includes taking a maximum of two cubic metres per person per day and a maximum of 16 cubic metres per household per financial year."

"Some designated firewood collection areas may not open at the beginning of the Spring 2017 Firewood Season for various reasons, including supply or accessibility due to wet conditions," Mr Pasztaleniec said.

"More information and updates about firewood collection, including the location of firewood coupes, will be available at https://www.ffm.vic.gov.au/firewood/firewood-collection-in-your-region from the 1st of September.

"DELWP and Parks Victoria staff will be patrolling parks, forests and reserves to ensure people are doing the right thing.

"Firewood collection is only permitted on public land during designated times of the year and from designated firewood collection areas. The felling of any trees for firewood is strictly prohibited.

"It is also illegal to sell firewood collected on public land without an appropriate permit or licence or to take more than the allowed amount."

Under the Forest Act 1958, people who collect firewood outside designated firewood collection areas or a firewood collection season or take more than the maximum allowable amounts can face fines of $634, or a maximum penalty of one year imprisonment or a fine of up to $7,928 or both, if the matter proceeded to Court.

Any information the community may have about the illegal removal of firewood for sale can be reported to DELWP on 136 186.