Latest News
Forest Fire Management Victoria (FFMVic) Authorised Officers patrolled public land areas across
the Gippsland region over the Australia Day holiday weekend and were pleased to report that most
people were doing the right thing, managing their campfires responsibly and taking their rubbish
home with them.
"FFMVic Assistant Chief Fire Officer, Chris Stephenson said: "Our officers spent time with the
public chatting about their camping experience and handing out information about responsible
behaviour when camping, walking, riding or driving in our forests and parks."
"Unfortunately there are always some people who do the wrong thing, and we were concerned to
find a large number of unattended campfires, and campfires that had been left without being fully
extinguished," Mr Stephenson said.
"An unattended campfire at Jack Smith Lake, north of Woodside Beach caused a fire that burnt
half a hectare of grass and scrub before it was contained by FFMVic and CFA crews."
"More unattended campfires were found in all fire districts across the region that had to be
extinguished by our officers before they became bushfires."
"We're trying every avenue to get the message out that campfires must have an adult present at all
times and must always be put out completely using water, until they are cool to touch and safe to
leave."
If you see something, say something and report irresponsible or illegal behaviour at our campsites
to DELWP on 136 186 or to Crime Stoppers on 1800 333 000.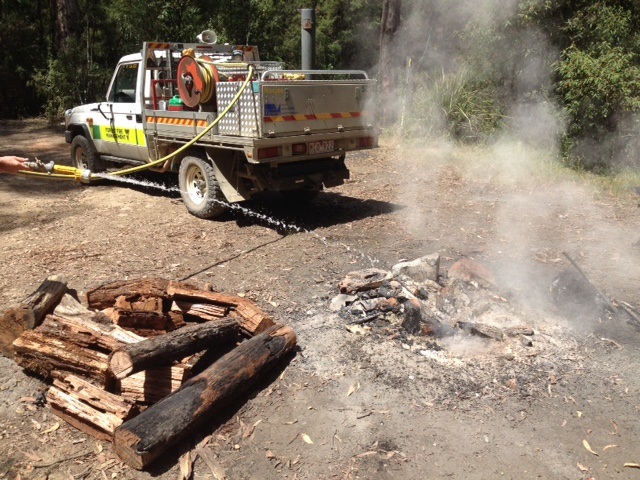 Werribee District 4WD Club's, Product Expo, 2nd March 2017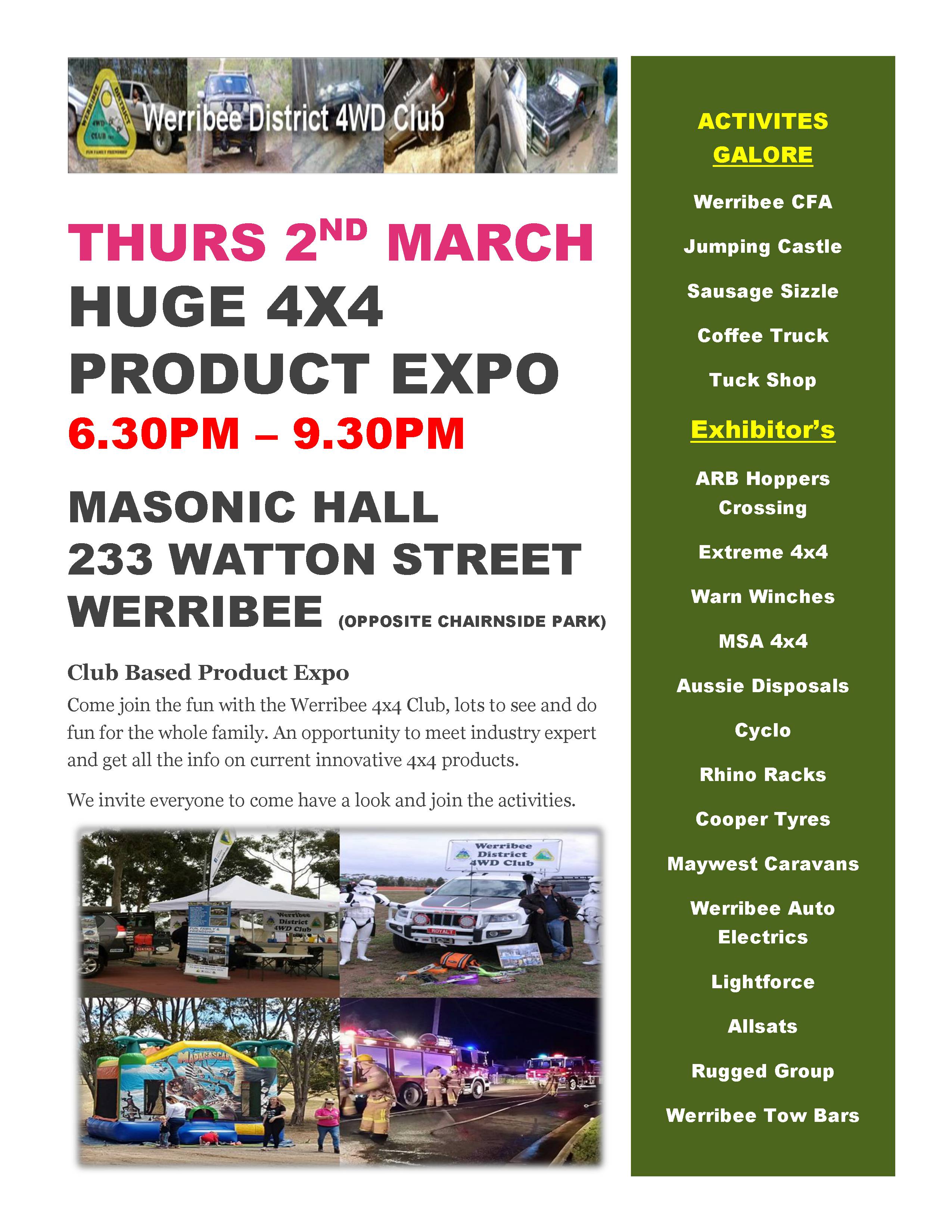 One for the diaries, Kernot-Grantville Fire Brigade's, Grantville Adventure Expo! 2nd April 2017. Senator Derryn Hinch will be in attendance on the day !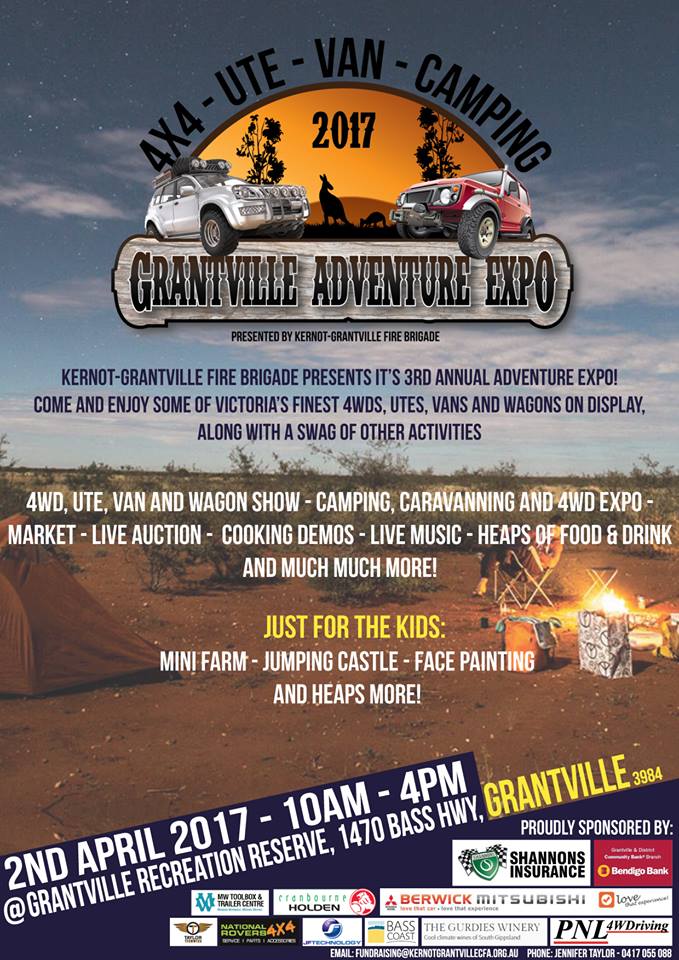 Please note that the office of Four Wheel Drive Victoria will be closed on Thursday 26th and Friday 27th January, 2017 to enjoy a long weekend.  We will return to work on Monday 30th January, 2017.
In the meantime, you are welcome to send us an email at This email address is being protected from spambots. You need JavaScript enabled to view it. and we will reply as soon as possible.
Alpine National Park Deer Control Trial
I am writing to provide you with information on Parks Victoria's upcoming deer control trial in the Howitt-Wellington Plains area of the Alpine National Park.
We have seen a significant expansion of deer populations in the Alpine National Park over the past decade and of particular concern is the increasing signs of deer activity at higher elevations. This corresponds with observed increases in the impacts of deer on significant environmental values, including endangered alpine peatlands.
The control trial will investigate whether ground shooting can be used to reduce deer impacts on these significant environmental values in selected areas of the Alpine National Park. And, if so, what are the most efficient and effective techniques.
Coordinated ground shooting has proven to be an effective method of invasive animal control throughout Australia. The technique is humane and highly target specific, with no impact on off-target species.
Parks Victoria is partnering with the Australian Deer Association (ADA) and the Sporting Shooters Association of Australia (SSAA) to deliver the control component of the trial. ADA and SSAA members have significant experience and expertise in deer hunting and will observe state and/or national codes of practice and standard operating procedures. This will ensure that best practices in animal welfare are observed.
This program complements other deer control programs being implemented across the state by Parks Victoria, the ADA and the SSAA.
Recreational deer hunting is a legitimate activity permitted in the area of the park where the trial is being conducted. The trial differs from recreational hunting in that it is aimed at protecting alpine peatlands and will therefore be restricted to the areas where these occur. In these areas, Parks Victoria's trial will complement the recreational harvest and provide information on the control regime needed, in addition to the recreational harvest, to reduce the impacts of deer to an acceptable level.
The park will not be closed when deer control work is being undertaken, although some localised access restrictions will be applied. Signs will be placed at major access points advising visitors when deer control is being undertaken and which tracks are closed. All personnel involved will be working under the supervision of Parks Victoria staff. They will be readily identifiable and will act in accordance with all legal requirements to ensure the safe use of firearms.
At the conclusion of the deer control trial, Parks Victoria will provide stakeholders and the community with the results and the potential for deer control to continue into the future.
The first control operation is scheduled for 3rd , 4th and 5th February 2017. The attached map shows the area in which deer control will occur.
Should you wish to know the dates of future operations please register you interest with me via phone ((03) 8427 2531) or email (This email address is being protected from spambots. You need JavaScript enabled to view it.). You will then be contacted once dates are finalised.
Please do not hesitate contact me if you have any questions or would like more information on this project.
Yours sincerely
Mike Dower
Area Chief Ranger
Foothills and Southern Alps
Click here for a full overview of the trial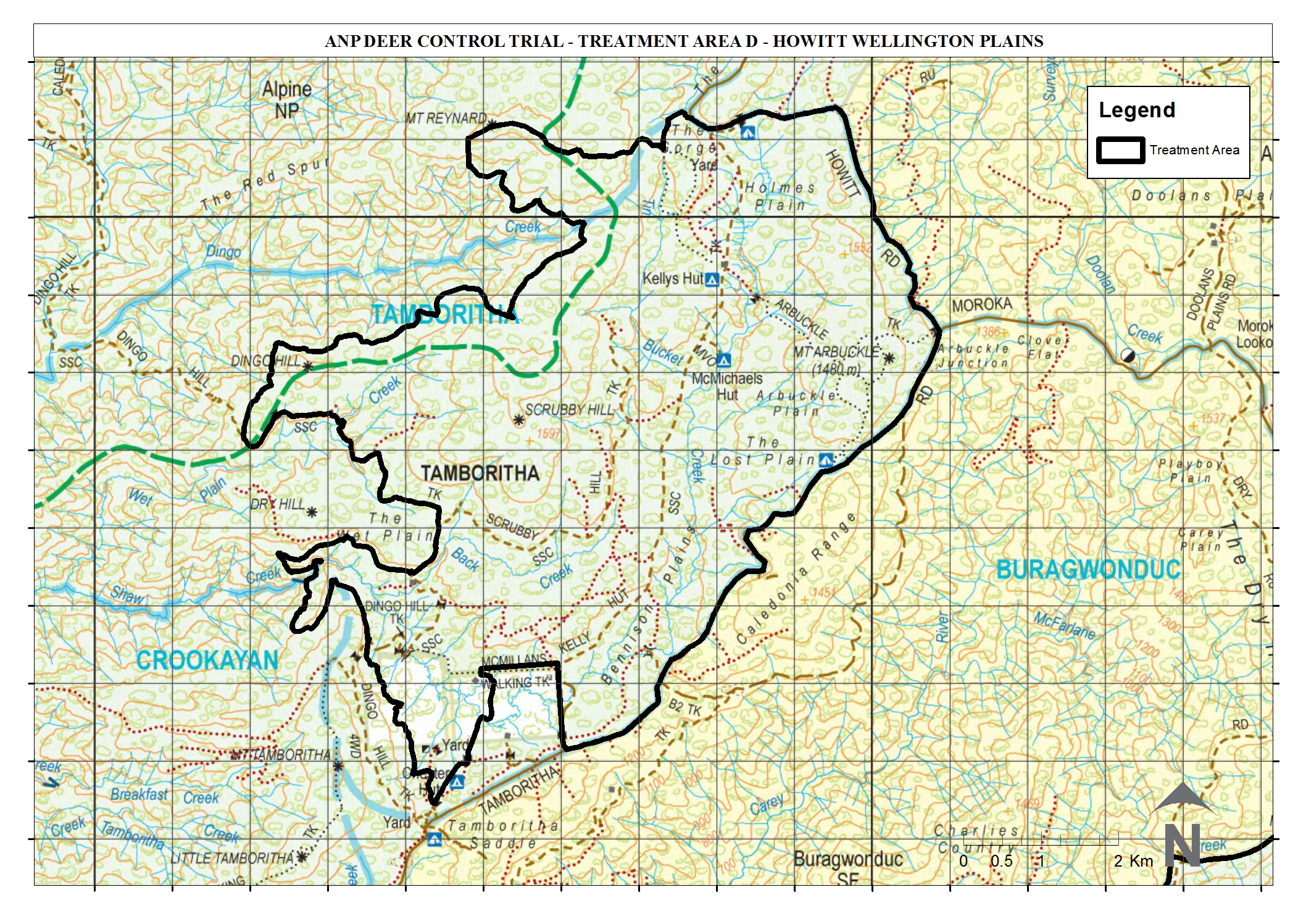 Detours will be in place in the Yarra State forest during January to ensure public safety around timber harvesting operations .
There will be potential traffic delays of up to 30 minutes for traffic using Big Creek Road between Brahams Rd and Federal Rd near Powelltown.
Drivers are encouraged to follow detour signage and take alternative routes to avoid the likelihood of delays.
Traffic will still be able to use Big Creek Rd and Federal Rd but may face delays due to safety precautions in place around timber harvesting operations.
Visitors travelling to the Ada tree from Yarra Junction and Powelltown throughout January can take the Bennie Ck Rd turn-off from the Yarra Junction Rd and use Bennie Ck Rd and New Turkey Spur Rd to reach the Ada Tree walk car park.
Alternative access is also available from the Warburton-Woods Point Road via Muddy Creek Road and Big Creek Road (eastern end) to Federal Road.
The safety precautions will be in place to reduce any risk of harm to staff, contractors and members of the public.
For more information, phone 56248100 or please use the Map Layers found at - http://mapshare2.dse.vic.gov.au/MapShare2EXT/imf.jsp?site=pam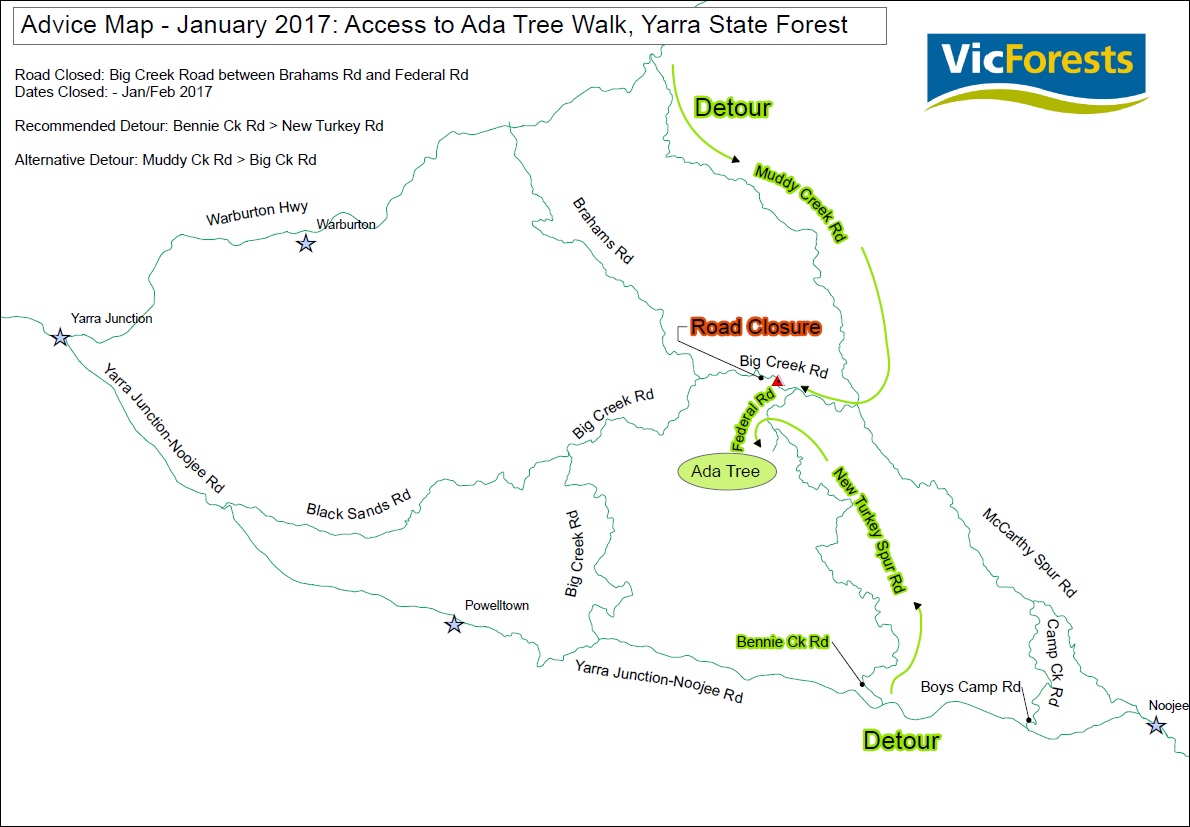 Hello all
First one for 2017
It's been a bit of a sad and bad ending to 2016 and starting of 2017, with a number incident's over the holiday period.
Over Christmas two burglaries took place, the first at an address at the A1 Mine settlement where chains were cut and a property was broken into and a number of firearms stolen, the thieves took their time and trashed the house, destroying a substantial gun safe and the wall holding it.
The second burglary was at a property in the Kevington area where the crooks have forced their way into a large shed stealing a quad bike, trailer and a number of tools.
Both of these jobs occurred between 11/12/2016 and 24/12/2016. If anybody reading this report who was in the area and might have seen something can assist us with our enquires it would be most appreciated.
On 30/12/2016 there was a horrific motorcycle collision near Skipworth Camping Reserve were a 4wd with trailer and two Harley Davidson motorcycles collided on a tight turn in the road. This resulted in the death of two riders and serious injury to a pillion passenger. Thankfully a lot of people came to their assistance from the camping ground. If there is anyone who saw the collision that could assist police in their enquires please contact us and let us know.
A really concerning incident occurred on New Year's Day in the State Forest, sometime around 5:00 pm someone has ignited a fire in the bush, near the intersection of Ross Creek track and the Walhalla Woods Point Road. The fire which is believed to be deliberately lit has burned up from the track into the bush and scrub burning about ½ an acre. Fortunately CFA from Woods Point Fire Brigade where able to attend in time to extinguish the fire. A male with a group of 4wd's stopped in at the Commercial Hotel to report fire but left no details, if that person could contact me or Crime stoppers it would be appreciated, anyone else who may have information is asked to contact us as well. As you know this is the last thing we need in the State Forest as the Fire Season ramps up.
Ken
Following a very successful inaugural event in 2016, Buckland and Beyond, organisers are taking you to one the High Country's best kept secrets a little further east along the Great Alpine Rd to Omeo, East Gippsland.
The experienced committee and Trip Leaders of this not-for-profit Multi- club event have the support of the Wangaratta Four Wheel Drive club, a member of Four Wheel Drive Victoria (FWDV), and is open to new members as well as visitors from other states.
Click here to read more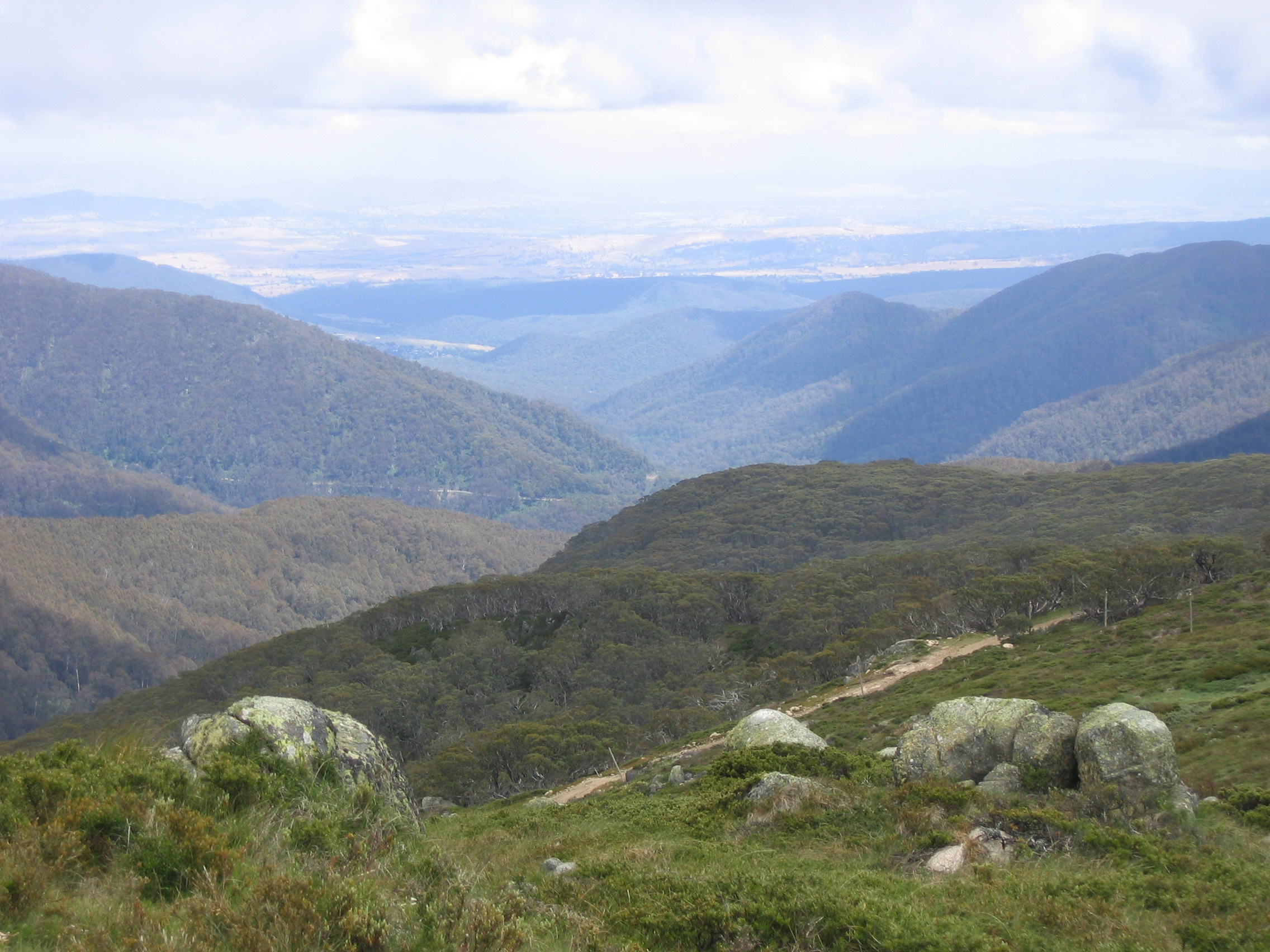 Parks Victoria has released its blueprint for managing and protecting 900,000 hectares of Victoria's unique alpine and high country over the next 15 years.
The Greater Alpine National Parks Management Plan aims to protect and enhance the outstanding natural, cultural and recreational values of the parks.
The plan identifies eight priorities for urgent action:
Targeted weed containment (brooms, blackberries, willows)

Fire management to protect and enhance ecosystems

Integrated work with all the Traditional Owners

Responding to climate change

Benefits beyond boundaries — weeds and dogs

Feral horse control

Deer control

Fox control.
The Greater Alpine National Parks Management Plan covers the Alpine, Baw Baw, Errinundra, Mount Buffalo and Snowy River National Parks, Avon Wilderness Park, Tara Range Park, and Walhalla, Howqua Hills, Grant, Mount Wills and Mount Murphy Historic Areas.
The plan was developed in consultation with the community and key stakeholders including the Alpine Advisory Committee, the Victorian Alps Traditional Owner Reference Group and the Environment and Scientific Advisory Group.
Comments from over 500 written submissions on the draft plan contributed to the proposals adopted in the plan.
For further information about the Greater Alpine National Parks Management Plan visit www.parkweb.vic.gov.au/alpsplan
Quotes attributable to Minister for Energy, Environment and Climate Change Lily D'Ambrosio
"The Plan will guide the management and protection of Victoria's highest mountains and some of our spectacular landscapes."
"The Alps are home to a range of important flora and fauna, including about a third of Victoria's native plant species, more than half of the terrestrial bird species and 40 per cent of the State's mammal species."
"It's also home to one third of our total rare and threatened species, including a number of creatures found nowhere else, which is why we've set out this plan to ensure it is managed and protected for future generations."