CORONAVIRUS COVID19 and our training courses.
Four Wheel Drive Victoria will be ensuring that all our trainers and participants are following "Social Distancing" and hygiene practices during our courses.
All instructors of Four Wheel Drive Victoria are fully vaccinated.
Four Wheel Drive Victoria is based in Melbourne, Victoria and our training can cater for both public and corporate requirements and we also welcome enquiries from interstate. We have over 30 years of four wheel drive training experience.
Benefits to you of undertaking four wheel drive training:
Four wheel drive vehicles have some amazing capabilities compared to an ordinary car. They offer travel and recreation opportunities that would otherwise be impossible.
However four wheel drive ownership comes with a greater responsibility than usual. Special knowledge and skills are required to help you minimise environmental impact and risk whilst maximising your recreational opportunities.
Public Driving Courses:
We offer a range of public driver training programs to suit both novice and experienced drivers.
Our most popular public course is our Proficiency Driver Course which includes an evening of theory and a full day of practical training. Instructors are fully trained and experienced in all popular four wheel drive makes and models as well as newer electronic vehicle technologies. This is a non accredited course. This means that you still receive a high level of training, but you are not assessed. You will receive a Certificate of Participation on completion of the course.
To make an enquiry, book a course or find out more about the range of courses available, click the blue button below.
Click to access Course Information
We are a Registered Training Organisation (RTO):
If you require an accreditation for employer or workplace requirements  we are a Registered Training Organisation (RTO 21605) and are registered to deliver nationally accredited courses and issue statements of attainment to participants who successfully complete our courses.
For further information about our accredited training please follow the link below.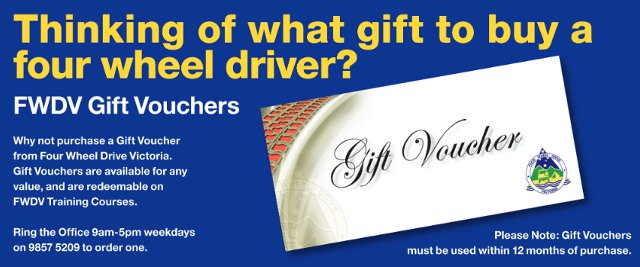 Gift Vouchers
Our Gift Vouchers are available for use with any of our courses. They a a great idea for the four wheel driver in your family. please contact the office during business hours on 03 9874 7222 for more details or to purchase.
FWDV Fee Refund Policy
Click here to access and read the FWDV Fee Refund Policy.
Lost / Need Your Certificate Reissued?
Lost your certificate or need it reissued? Please email This email address is being protected from spambots. You need JavaScript enabled to view it. with the date you completed your course, the type of course you were on and your name. Please note, there is a $30 cost involved with this process.